There is one thing that you just must know how to make if you are from the south. It goes hand in hand with being a southerner and no, it's not gumbo or fried chicken. I will give you one hint- buttermilk. Okay, two hints–what about Grandma! When I think buttermilk biscuts I am automatically taken back to my grandmother's house.
So did you hear it? The Word was buttermilk? The one thing you MUST know or learn how to make is Buttermilk Biscuits. Why you might ask, should I know how to make buttermilk biscuits? Okay, fair enough question. The answer- because they are BEYOND easy, they scream "You're a great cook" and they are unbelievably delicious.
A lot of times you will hear people say their biscuits came out hard, if that is the case, you kneaded them too much. When you are handling ANY type of dough the best thing to do is treat them like a baby, gentle and caring. Knead gently and as little as possible. While having hard biscuits is a more common thread among biscuit makers it isn't the only one. To make sure there isn't any wrong doing in the biscuit making process I have composed a list of a few helpful hints to ensure you have the best buttermilk biscuits humanely possible!
Tips for Best Biscuits
1. If you are using self-rising flour for the biscuits make sure to ONLY use all-purpose flour for dusting your work surface. Self rising flour can give the outer coating of the biscuits a bitter taste.
2. Knead gently and as little as possible.
3. Use very very very cold butter. When I am making any type of dough I usually stick my cubed butter in the freezer for about 5 minutes before I use it.
4. One word PREHEAT! Your oven should ALWAYS be preheated no matter if your making biscuits or cookies!
5. Make sure your baking soda, baking powder and flour are fresh. Don't use the baking soda you have opened in the fridge, store your flour properly and never use them after the fresh stamp date.
6.When you cut out the biscuits from the dough, push the biscuit cutter straight down, then straight up. Do not push down and twist. This compacts the edges of the dough and causes uneven cooking and flat biscuits.
Now that you have everything you need to make the perfect biscuits-Let's get to it! This is my favorite biscuit recipe. It uses buttermilk, taste as fresh, moist and well- you won't be able to stop eating them!
Now get out your garlic and butter and get ready to brush a heavy dose of this Oh So wonderful concoction onto each and every single one of your biscuits.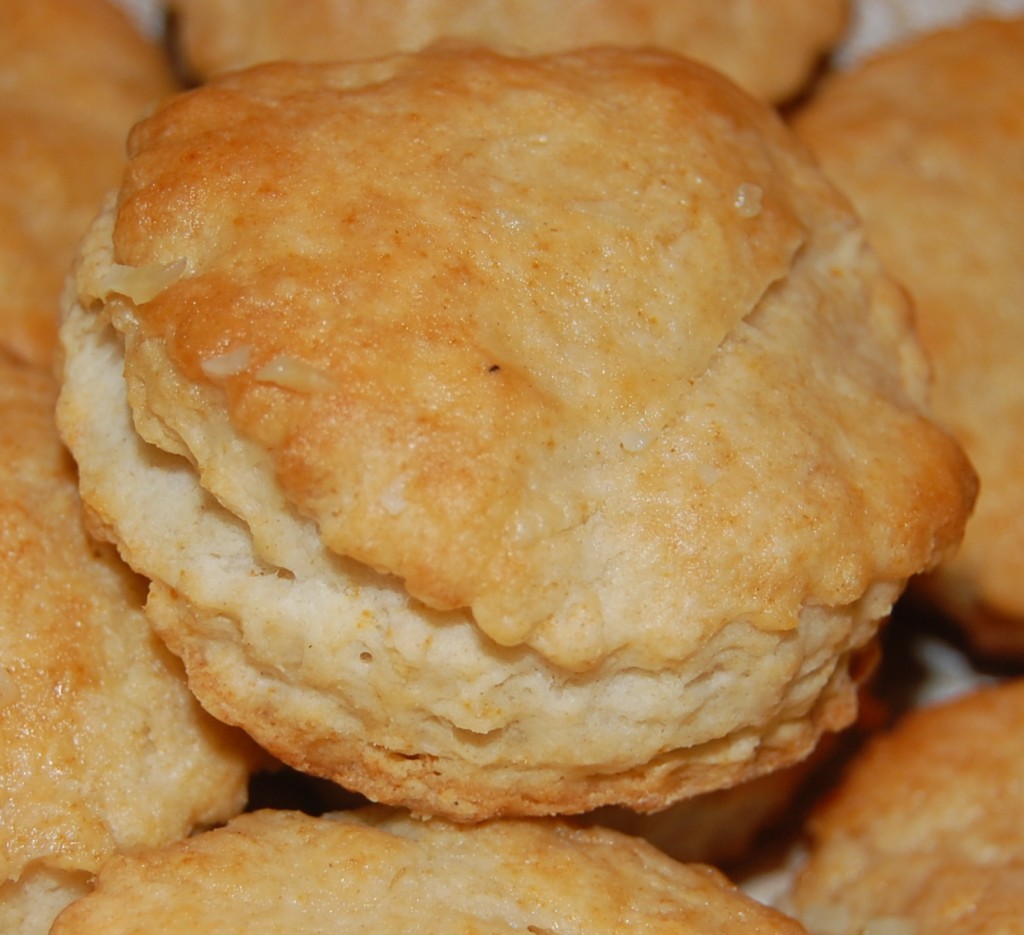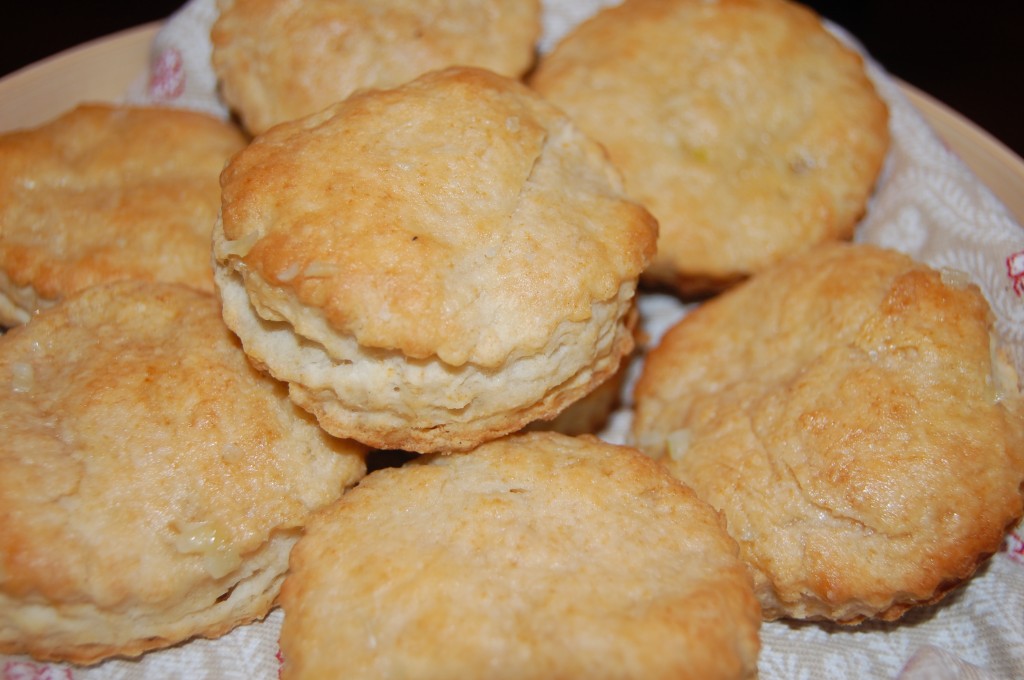 [print_this]
Buttermilk Biscuits from Scratch
Ingredients:
2 cups AP flour, plus more for rolling
2 tsp baking powder
1 tsp salt
1 stick cubed unsalted butter, COLD! ( I like to cut mine into cubes then place in the freezer for about 5 minutes before using)
3/4 cup buttermilk
2 tbsp butter, melted
2 cloves garlic, whole
Directions:
Preheat your oven to 425 degrees. Sift together your dry ingredients then using your hands (who needs a pastry blender!) cut in the chilled butter until your mixtures resembles small peas. Using a fork stir in the buttermilk and mix until just combined(very important to NOT overmix). Turn out the dough onto a lightly floured surface and gently fold then gather about three times until the dough comes together. Now roll the dough out using your rolling pin to approx 1/2 inch thick. Cut out the biscuits using a biscuit cutter and place them on a large baking sheet as close together as you can get them. Bake until slightly golden brown, about 20 minutes.
In the meantime, heat your butter in a medium sauce pan on medium to low heat and add your garlic cloves. Turn to low and allow to cook for about 10 minutes stirring ever so often. The goal is to easily make a garlic butter that is not overly strong in the garlic area. By keeping the cloves whole you allow to butter to slightly take on the garlic flavor.
When the biscuits are done brush with the garlic butter and serve warm!
[/print_this]
Before I let you all go I wanted to let you in on a little secret! Infusion Design Studios! My friend Jess is an amazing and talented graphic designer who has recently opened up her design shop to all us lucky girls. If you are in the need for a new blog makeover or maybe a logo to fit your blog then Jess will definitely be able to help you. Her eye for design is incredible and you won't leave disappointed. Check out her etsy shop and design site and see what she can do for you! Below are a few of the new logos she has been working on.