While traditionally kafta is made with lamb I like to think out of the box every now and then and I decided that since Ms. Belleicious doesn't have lamb or even know where to find lamb for that matter, I am going to make kafta with ground chicken! Not only is the kafta using ground chicken just as good but it is much healthier than with lamb and I was surprised at how much flavor I got from such simple ingredients.
I am not usually on the Lebanese bandwagon. Not that anything is wrong with it at all and my husband LOVES to eat Lebanese, but I just don't care for lamb and some of the flavors used in the cooking. However, I was all over this dish that night. I think the chicken kafta may have possibly converted me. I am seeing dinner at Ya Ya Mary's in my future ( 4 Star Lebanese restaurant here in Houston).
I am a sauce kind of girl you might even call me Saucy LOL! because I like to have a sauce for everything. Honestly, I was a bit worried if the chicken would have enough flavor so I decided to make a spicy chili sauce to cover my BUTT in case the kafta didn't turn out as flavorful as I was anticipating. Boy was I wrong. The kafta was absolutely perfect and the sauce just propelled the dish up a notch. This is such a fun and healthy dish for the family. Kids will love helping you in the kitchen with the kebabs and even better the meat mixture can be prepared for a number of dishes using ground meat or turkey to make meatballs, meatloaf or hamburgers. I hope you all enjoy this dish as much as I did.
A big shout out to everyone who participated in the 2011 Recipe Challenge this month. If you missed seeing everyone's dishes please click here and you can get your fill of delicious creations. Remember that the next recipe post for the challenge will be the third Wednesday in February so get in the kitchen, start cooking and get your cameras ready!
Oh and the winner of the Belevedere Designs Giveaway is Elizabeth from Staying Home and Staying Sane! Congrats to you! Send me your contact info please to bellecooking@gmail.com and I will get you in touch with Belvedere.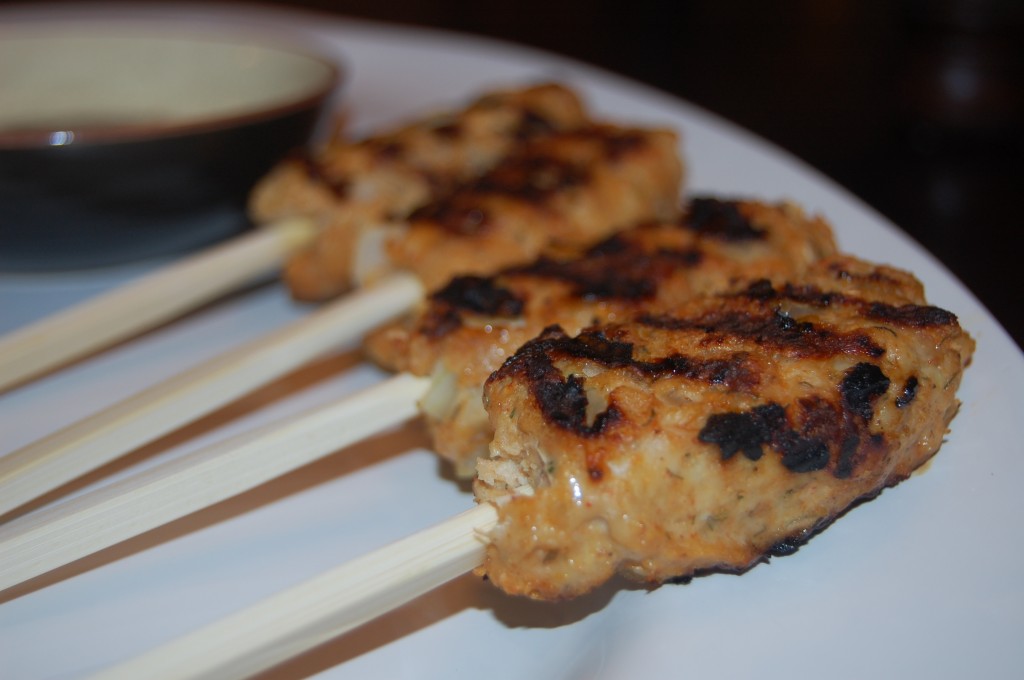 Chicken Kafta with Spicy Chili Dipping Sauce
Ingredients:
1  lb chicken
1/4 cup grated onion
1/4 cup chopped parsley
2 tsp coriander
1 tsp chili powder
1/2 tsp nutmeg
1/2 tsp cumin
1/2 tsp minced garlic in a jar ( this made the flavor really pop since the garlic isn't being sauteed)
1 tsp salt and pepper each
1/2 tsp paprika
1/2 to 1 cup bread crumbs
wooden or metal skewers (if using wooden soak them ahead of time in water)
Directions:
In a large bowl, mix together the ground chicken, onion, parsley, and the rest of the ingredients until evenly blended. Divide into 6 or 8 portions depending on the size you are wanting and press around one end of the skewers to form a log shape approximately 1 inch thick and 6 inches long. Refrigerate for at least an hour before cooking. Preheat your indoor or outdoor grill to 450 or preheat your oven to 450. Cook the skewers for about 5-6 minutes on each side depending on the thickness of your patties.
Spicy And Sweet Chili Sauce (from Paula Deen on Food Network)
1 cup mayo
3 TBSP Thai sweet chili sauce
1 TBSP minced garlic
2 tsp brown sugar
1/8 tsp red pepper flakes
Combine all ingredients in a small saucepan. Heat for 5 minutes then transfer to a container and refrigerate for at least 30 minutes before serving.