My amazing and wonderful husband had a birthday a few weeks ago and it is tradition that we stay home and cook a great meal for our birthdays-however, I have to admit that this game really isn't all that fair considering he doesn't cook-he only grills. Let's just say I haven't had a variety of birthday dinners- Can you Steak Three Times? LOL!
Nonetheless, he is my sweetie and I love him more each day so when the time comes for me to make him something super special I am all game. This year I decided to make him coffee crusted orange roughy with his favorite chocolate pie. Pinch Me!  I mean, it was seriously downright sinful. I have never thought about mixing coffee with my spices before but we went out to dinner before Christmas and he ordered a coffee crusted red snapper at this South American restaurant and after one bite of it ( I always nibble off his plate) I knew this was the dish I needed to try and re-create.
Did you know that if you google coffee crusted fish that you get NOTHING! There is coffee crusted steak, lamb and even pork but not FISH! So after exhausting ever avenue to try and at least get an idea of a the different spices that one would use to make a coffee crust for fish I was left with no other option than to just come up with a spice rub on my own. Now, we all know I don't back away from a challenge but I can honestly say this go around I was a bit nervous about the outcome- that is until I took that first bite!
Decadent, Rich, Smokey, Spicy and Sinful! The fish was cooked perfectly and the coffee crust was just perfect. Next time I might push down on the spice rub a little harder when I put it on the fish so that some of it doesn't fall off during cooking but other than that! Hands down the best seafood dish I have ever made or even had for that matter.
I wanted to be sure to post this recipe well in advance for Valentine's Day so that if you are like ourselves and stay in for V-Day then you can already have your game plan on what you will be cooking. Try this for your man! He will go crazy!
Oh, what did you say? Where is the Chocolate Pie? Girls, Girls, I thought about giving you both in one post but then I realized  it might be too much for you to handle.  Don't worry- the chocolate pie is coming next week! I like to keep you on your toes! LOL!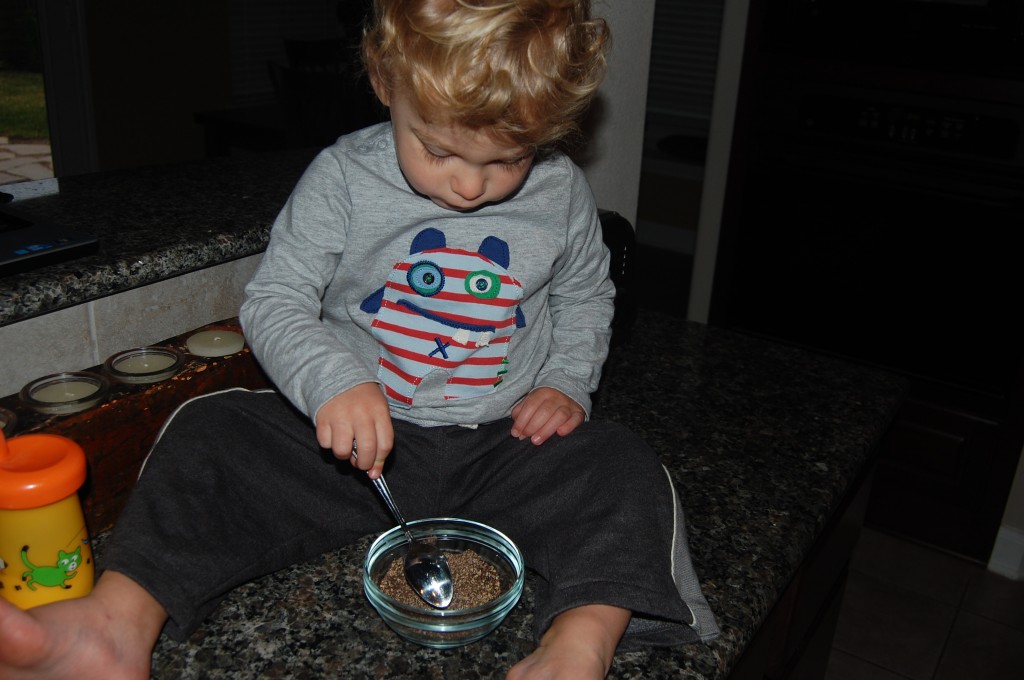 My son helping me mix the spices! He is really focused!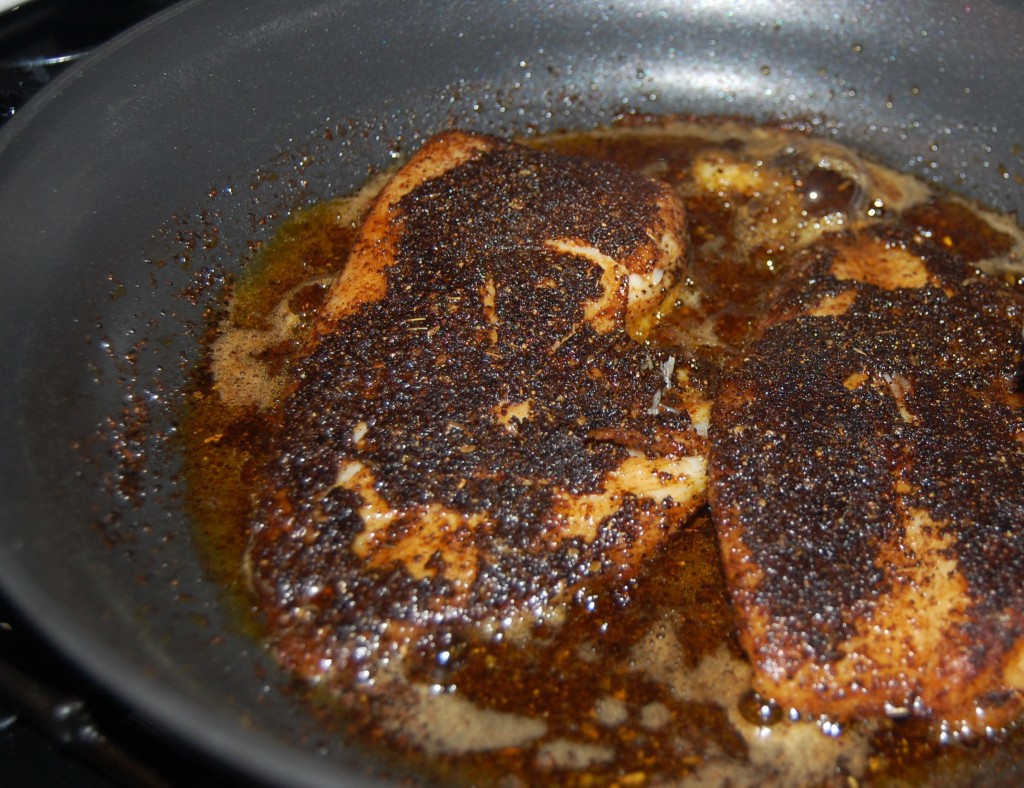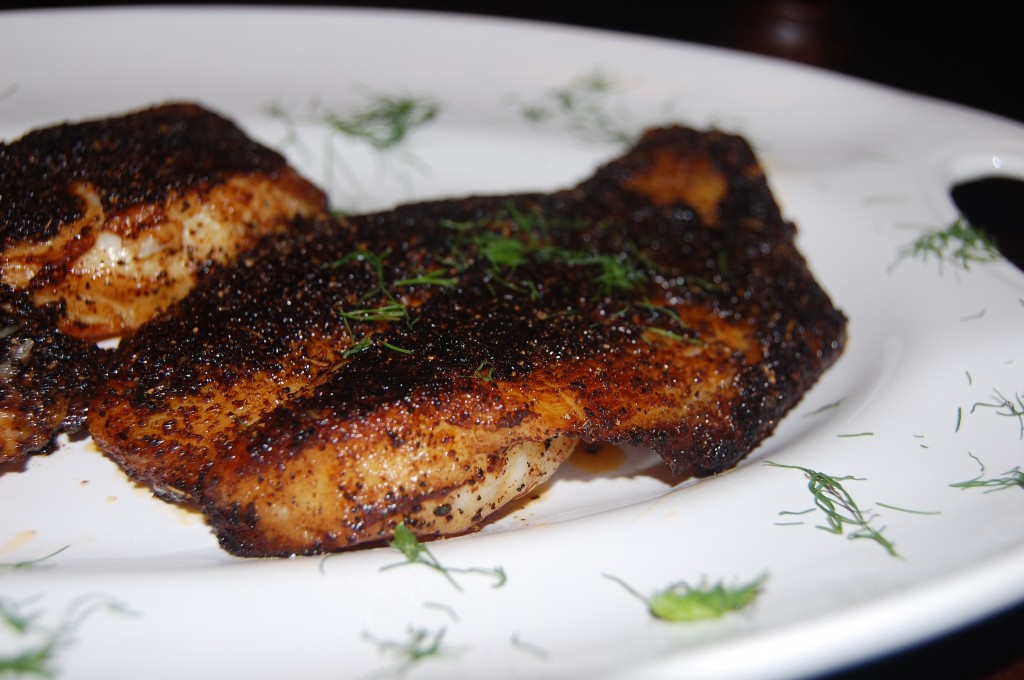 [print_this]
Coffee Crusted Roughy
Ingredients:
2-4 fillets of orange roughy or red snapper
¼ cup finely ground coffee of your choice ( We use starbucks or black coffee by folgers)
1 TBSP oregano
1 TBSP garlic powder
1 TBSP chile powder
2 TBSP paprika
2 tsp  salt
2 tsp pepper
1 tsp ginger
1 TBSP ground mustard
2 TBSP brown sugar
Olive oil and 3 TBSP butter for pan-frying
Directions:
Season each side of the fish with salt and pepper. Combine all the seasonings in a mixing bowl and mix well. Next get a heaping spoonful of the spice rub and rub it into ONE side of the fish (if using red snapper with skin intact then obviously put the rub on the side without the skin). Make sure to rub the spices in very well by actually gently pushing them into the side of the fish. Cover and allow to sit in the refrigerator for at least 2 hours.
When ready to eat, heat 3-4 TBSP of olive oil along with the butter in a large sauté pan or cast iron skillet. When the oil is very hot add the fish with the rub side down so that this side will cook first and get nice and crispy before you have to flip the fish. Cook the fish on the rub side down for 4-5 minutes then flip and cook again for 4-5 minutes. Cooking time may vary depending on the size of your fish. Generally speaking, the fish is ready to turn when it begins to lift away from the bottom of the pan.
[/print_this]