The perfect mid-day snack for you and your kids. Grant loved these delicious and suprisingly easy to make soda crackers. Go figure as to why they call them soda crackers but nonetheless they are GOOD! The first thing I go to when I am sick are saltines. The first thing my son asks for at dinner is saltines and the worst thing in my opinion is a stale saltine. So with that said, I decided to do away with store-bought saltines and just go ahead and make my own. That way I can regulate how much I make and make sure they are eaten before making more. No more stale crackers on my watch!
The recipe is adapted from the King Arthur website and I decided to add a Belleicious touch by using a pinch of dill , sea salt and white pepper instead of black. The dill gives the crackers a fun flavor for the kids but you could use more spices such a cayenne and paprika if you are making these strictly for adults.
Sometimes after I make things from scratch I wonder if it was worth my time. Should I have just picked up that box at the store but on this occasion the time and effort were definitely worth it when I took a bite out of this crispy, salty cracker. Cheers girls and make something fun this week that you wouldn't normally make!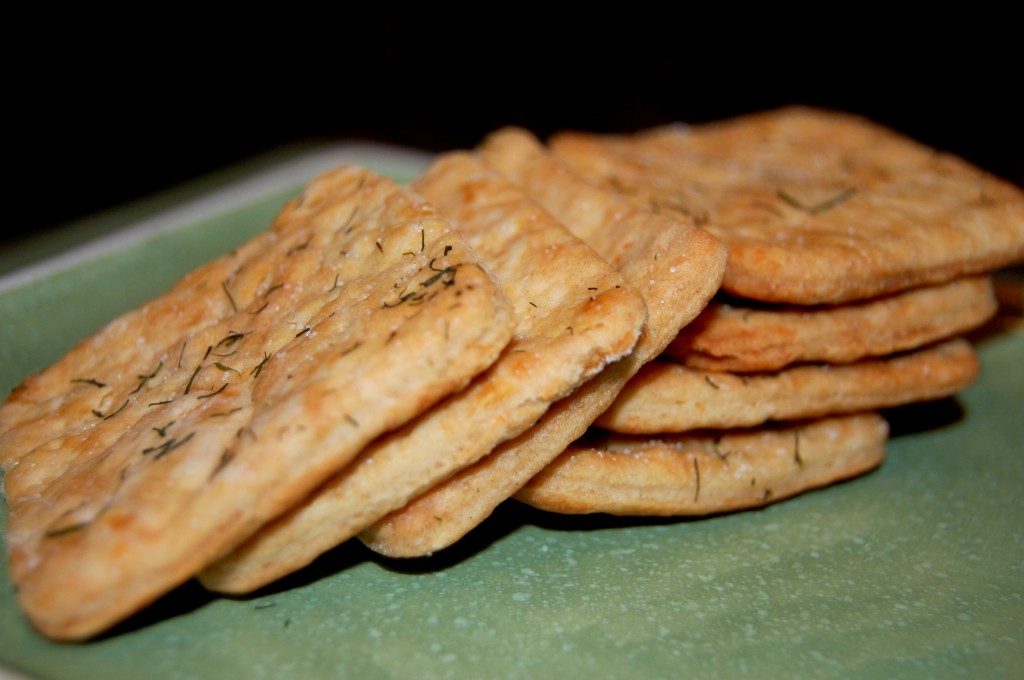 [print_this]
Homemade Dill Soda Crackers
Ingredients:
1 1/2 cups AP flour or cake flour ( cake flour works the best and that is what I used but AP flour will do the trick )
2 tsp instant yeast
1 tsp salt
1 TBSP dill
1 tsp white pepper
1/4 tsp baking soda
1/4 tsp cream of tartar
1 1/2 tsp sugar
7 TBSP water (may need more water if using AP flour- just judge this as you go)
2 TBSP butter
2 TBSP vegetable oil
Directions:
Whisk together all the dry ingredients including the seasonings and set aside. Heat the butter, water and oil in a microwave safe bowl just until the butter is melted and then allow it to cool down ( just needs to be cool to the touch- approx 5 minutes)
Add the liquid ingredients to the dry ingredients. Beat at medium, then high speed for approx 2 minutes until the mixture resembles a soft dough. At this point if your dough isn't coming together you can add a little water but just 1 tbsp at a time. The dough should be moist but not sticky and not crumbly.
Place the dough in a lightly greased bowl, cover it, and refrigerate overnight, or for up to 18 hours. The more time it has in the refrigerator the more flavor the crackers will have.
Remove the dough from the refrigerator, and allow it to rest for about 15-20 minutes. Lightly flour your work surface and roll out the dough to a 3×5 rectangle then fold 3 times, then roll out again to a larger rectangle, fold three times and lastly roll the dough out in 1/2 inch thick 10×18 rectangle. Sprinkle with sea salt and cut into tiny squares. Bake at 450 for 10-15 minutes until slightly browned.
**IMPORTANT*** Once the crackers are done baking, open the oven door and allow them to rest in the oven until the oven is completely cool. This will ensure that the crackers are nice and crispy.When the crackers are completely cool then you can take them out and store in an airtight container for up to 2 weeks.
[/print_this]