Most people at the beginning of the New Year make a list of things they would like to accomplish or more commonly known as a New Year Resolution. Typically their list range from diet and fitness to finances and activities. Not so here at Kitchen Belleicious. Each year my list has not been to lose more weight, organize the house or actually make more money. My list each year is what I like to call A Bucket List of Recipes.
You know the saying, There is never enough time in the Day? Well, that is definitely the case for me. There is never enough time in the day or week or month for me to cook everything I want to cook. I see recipes in magazines, TV and on other blogs and my mind starts scrambling to try and figure out how and when I can make that dish. In the event I forget about something I make little post it notes all over my laptop. You should see it now! You can't even see the desktop background!
My goal for 2011 is to make that post-it list half the size it is now. When I see something I want to make I just need to make it. Who cares if we don't need YET another cake in the house- I am sure my neighbor would love a homemade cake right? So without further ado I present to you my 2011 Bucket List of Recipes. There is 1 recipe for every month (with many more I didn't even write down). I plan to do a recipe a month in addition to my regular posting. Wait- I am going one step further. Since I am a what you would like to call competitive, uhum…. I am going to dub this adventure my Recipe Challenge and I am going to get you INVOLVED! I want you to join me! Whether it is a recipe on my list or one of your own you have always wanted to make but never got around to doing it, I want you to challenge yourself to do a recipe a month with me. Listen- the dish doesn't have to be beautiful, it doesn't have to taste good and heck it can be a complete disaster but at least try the recipe to at least say you tried! Grab my button my copying the link underneath the button on the sidebar and then each month send me the pics of your dish and I will post it on the 3rd Wednesday of each month along with mine. I will link each of your pictures back to your site as well as include a Mclinky Button at the end of the post!  Each month that I cross off a recipe from my list I will insert the picture of the dish in the list below so you all can keep track of my progress!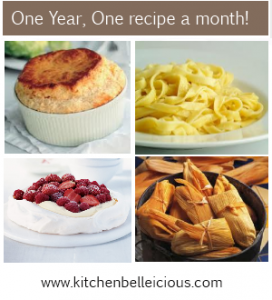 2011 Bucket List of Recipes
#1.  Homemade Sushi
#2. My grandmother's (what seems impossible) Cheese Souffle
#3. Homemade Pretzels
#4. Coconut Flan
#5. Cajun Tamales
#6. Homemade Pasta
#7. Oliebollen (Dutch donuts)
#8. Sweet Potato Gnocchi
#9. Pavlova
#10. Turtle Soup
#11. Soft Shelled Crab
#12.  Veggie Dumplings