I am a sucker for onions. Red onions, yellow onions, fried onions and most recently Pearl Onions! I can't tell you how many times  I have seen pearl onions in the market but I always just walk right by them. Perhaps, it is the thought in my head of how long it would take me to peel all of those onions for a dish!
Ohhh! I was so right on the money with the time it would take to peel the onions. However, I must say that the time and effort to get these little beauties ready for the pot is well worth it! The smell is intoxicating and rich with an a slightly sweet aroma. Since taking the plunge and buying my new favorite onions I have been amazed at how many different ways I have been able to incorporate them into a variety of dishes. They are perfect for soups, ideal for slow-cooking meats and slap your mama divine for a side dish!
After what seemed like hours peeling the onions I threw ( and I do mean threw! I was kinda fed up with the onions at this point) I sauted them in butter, garlic, Worcestershire and balsamic vinegar until they were slightly brown and crusty from the caramelization. Now its time for the secret weapon! Broccolini! Yep, have you heard of it? Have you tasted it? Pretty much tastes like broccoli except it is longer and thiner and in my most humble opinion much easier to work with. Broccolini is a cross between broccoli and kai-lan, which is a Chinese broccoli. Broccolini has a sweet taste with hints of broccoli and asparagus. It is the perfect accompaniment in place of your normal veggies and a great addition to pastas and casseroles. I fell in love with this veggie a few years back and I simply can't get away from it.
Toss in the broccolini, sprinkle with the juice of a lemon and a few seasonings and you have yourself the most divine side dish you have tasted in a really long time! Pinky Promise!
P.S. Sorry about the pictures. We were so ready to eat this side that I totally just started making our plates right from the stove before I realized I needed to take pictures first!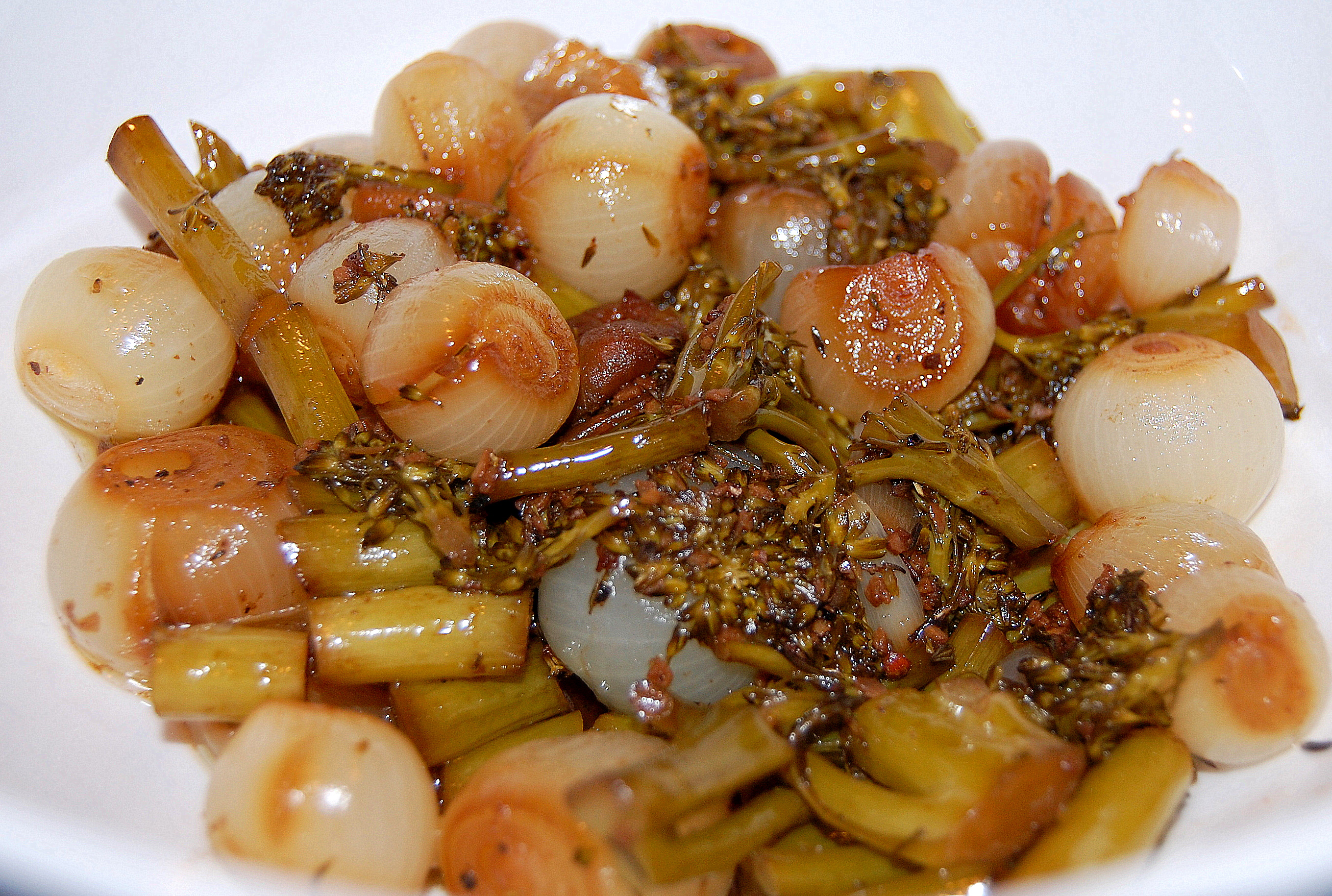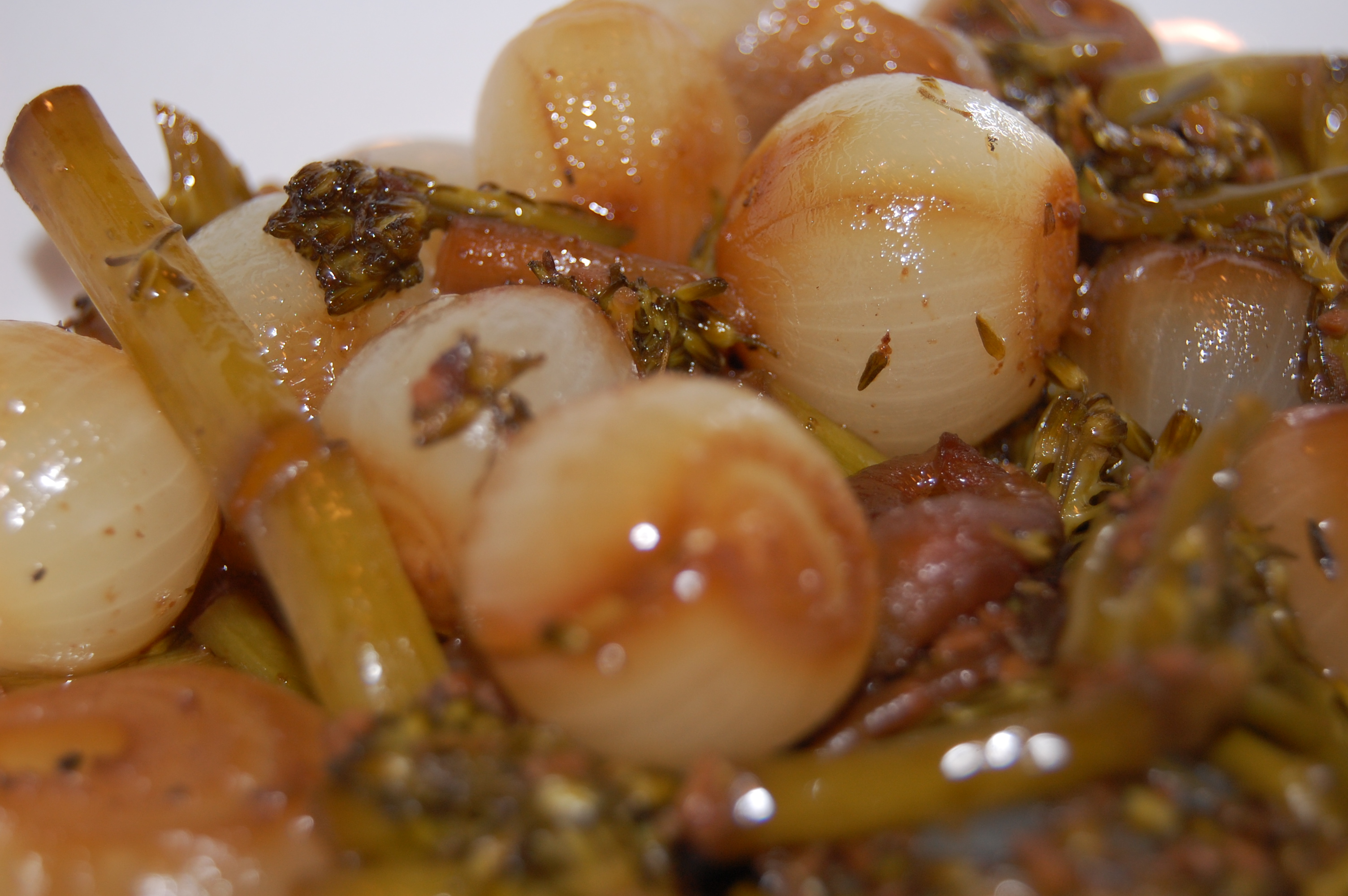 Caramelized Pearl Onions & Broccolini
Ingredients:
1 bag of pearl onions
1 bunch of broccolini
2 TBSP butter
1 TBSP olive oil
1 TBSP basalmic vinegar
1 TBSP Worcestershire sauce
1 tsp salt
1 tsp white pepper
1 tsp Spanish thyme
1 lemon
2 cloves garlic, minced
1/2 tsp red pepper flakes
Directions:
Once you have finished the race of peeling the skin off the onions, give yourself a big round of applause and a pat on the back. Now, get back to work because you have only just begun! LOL!
Melt the butter along with the olive oil in your skillet over medium-high heat. Add the minced garlic and begin cooking the onions until nice and tender. Stir every 5 minutes but allow the onions to cook with the cover on. Once the onions have  started to become tender, approx 15 minutes, add the balsamic vinegar, Worcestershire sauce, salt and pepper. Stir again and turn the heat down to medium-low. Allow to simmer away with the top on for another 5 minutes. Now add the chopped broccolini, lemon juice from the lemon and the red pepper flakes. Cook on low with the top on for another 6-8 minutes until the broccolini and nice and tender.
** Note: Some people prefer their onions and broccoli with more crunch and if that is the case with yourself then just reduce the cooking time for each step by 2-3 minutes.
P.S.  I am so excited to be able to share this special treat with you all. Devon from Devon Baer Designs is having a generous 25% off offer on each item from her store. Christmas or not, we could all use a pair of her Kate earrings or Max Party necklace! Check out Devon Baer at www.devonbaer.com