The perfect appetizer or accompaniment to a dinner salad. It is light, fresh and flavorful. This flatbread recipe can really be made any way you wish. It is one of those dishes that can be made a multitude of different ways and come out better than the original. I chose to use zucchini and olives the first go around but this flatbread was so divine that I had to make it again three nights later for my mom who was coming in town. We are both huge salad buffs and I know we would want something to go along with our salads. That particular time I didn't have zucchini though so I opted for squash instead of zucchini and onions instead of olives. It turned out delicious!
This is a quick post but full of flavor. Make this for your New Years Eve party or any party for that matter! Enjoy and I hope you all had a wonderful Christmas. I am still getting back into the swing of things after returning from a week of travel to Louisiana so bear with me for a few days!
Don't forget about the Memory Bean Designs giveaway! It ends midnight on New Years Eve!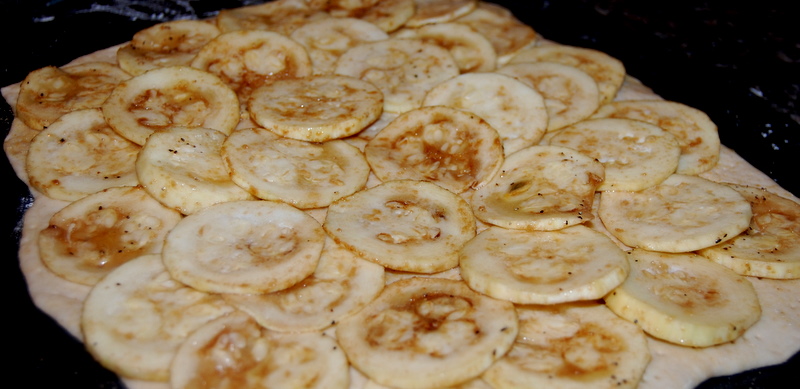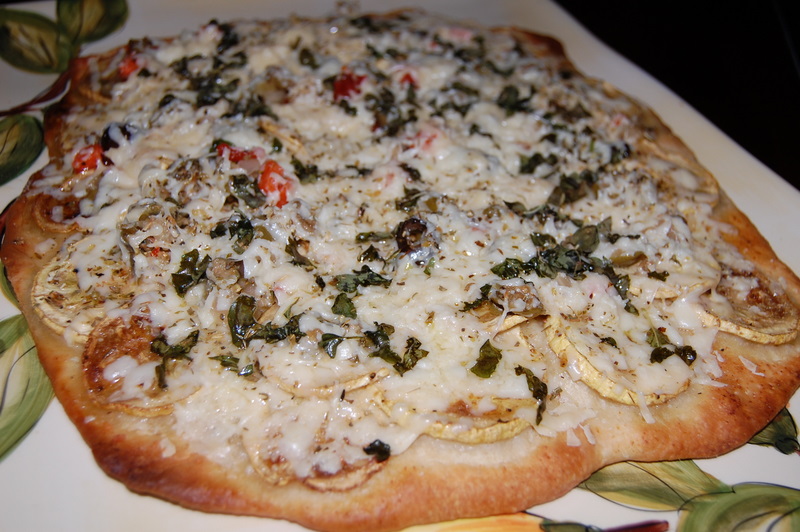 Zucchini and Olive Flatbread
Ingredients:
Pizza Dough:
2 cups AP flour
1 envelope pizza crust yeast
1 1/2 tsp sugar
2/3 cup very warm water
3 TBSP oil
3/4 to 1 tsp salt
For the Toppings:
1 large zucchini trimmed and sliced thinly
1 TBSP Italian seasoning
2 TBSP basil leaves
1 TBSP parsley
1 tsp oregano
1 tsp salt and pepper each
2 TBSP olive oil
2 TBSP balsamic vinegar
1 1/2 cups shredded mozzarella
1/2 cup romano cheese
1 can pitted olives or just regular black olives
1 can drained artichoke hearts
*handful of diced tomatoes- optional


Directions:
Place the sliced zucchini in a mixing bowl  and add 2 TBSP of olive oil, 2 TBSP balsamic vinegar, 1 tsp salt and pepper each, the oregano and Italian seasonings. Marinate in the refrigerator for at least 2 hours.
Combine 1 cup flour, undissolved yeast, sugar and salt in a large bowl.  Add very warm water and oil; mix until well blended, about 1 minute. Gradually add enough remaining flour to make a soft dough.  Dough should form a ball and will be slightly sticky. Knead** on a floured surface, adding additional flour if necessary, until smooth and elastic, about 4 minutes.
Pat dough with floured hands and roll dough on a floured counter to 12-inch circle; place in greased pizza pan or baking sheet. Brush with olive oil and prick the dough with a fork. Now begin assembling the dough with the sliced marinated zucchini. Arrange the slices in a single layer and then bake at 450 for 18 minutes. Once done remove and top with the olives, artichokes and cheeses. Sprinkle the top with basil and parsley and bake again at 450 for another 5 to 7 minutes.