Roasting a turkey is really not as hard as it seems. Think of a turkey as just any other piece of meat. Season it well and give it some love and attention and you have a wonderful bird!
I have never used an actual recipe for my turkey's or chicken. Depending on the mood I am in I just start pulling ingredients off the shelf always starting with butter, olive oil and of course garlic. I wasn't able to make it home this year for Thanksgiving so I had a beautiful huge turkey that was given to us by my husband's company waiting on me when we got back from Thanksgiving at my husband's parents house. Since I didn't have my dad's favorite fried turkey I felt somewhat deprived and knew I needed to remedy the situation or rather feeling so I decided to make myself a fried turkey!
Question: What do you do when you want to make a fried turkey but you don't have a turkey fryer? Answer: You just pretend to fry it! With no fryer in hand large enough to fit a 12 pound turkey into, I decided to make my outer coating and glaze for the turkey have somewhat of a smoky fried taste with extra extra crispy skin.
I grabbed my handy spicy brown mustard and butter and went to work with the seasonings that I knew would do the trick. They never let me down! Paprika, salt, pepper, garlic, Cajun seasoning and chili powder. To make things even more exciting, I opted for a little Worcestershire sauce and balsamic vinegar. Oh how I wish you could have tasted it!
This is a super easy breezy recipe that you should try for Christmas this year. It takes no time at all to make the coating and the result will leave your guests and family speechless.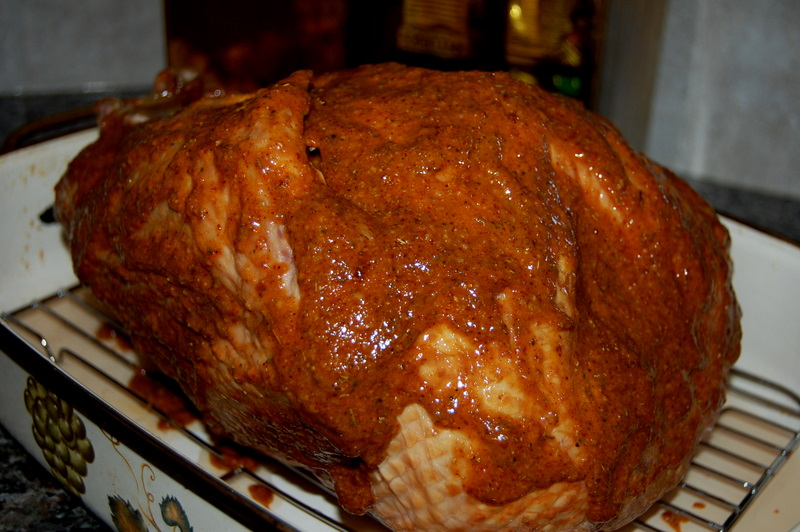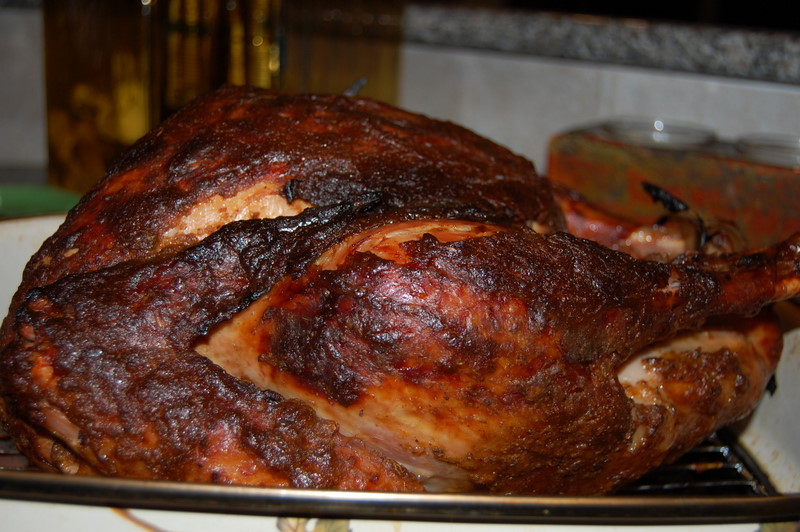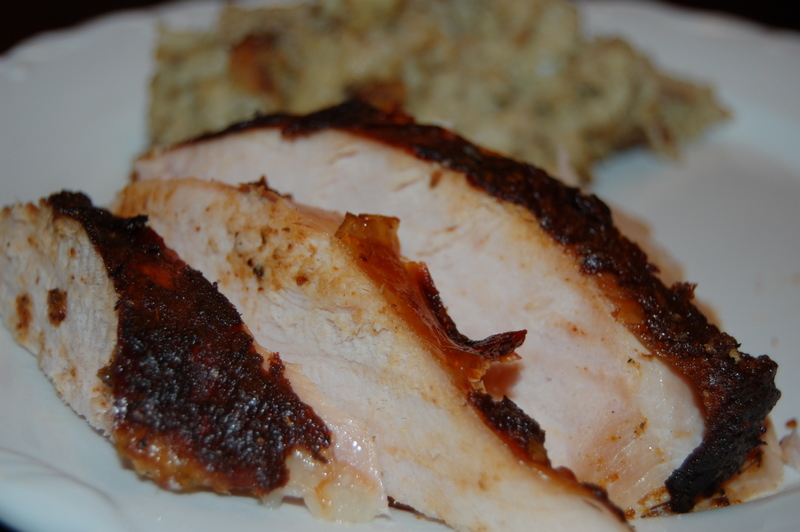 Fake Fried Roasted Whole Turkey
Ingredients:
1 cup spicy brown mustard
3 TBSP butter, softened
1 TBSP balsamic vinegar
dash of liquid smoke (and I do mean a dash)
1 TBSP worchestire sauce
1 1/2  tsp of the following: salt, pepper, thyme, chili powder, paprika, garlic powder and cajun seasoning
1 TBSP lemon juice
1 12lb turkey, thawed and cleaned
Directions:
In a mixing bowl stir together all the ingredients above. Slather and I do mean slather the turkey inside and out under and over with the coating. Be extra generous in the breast area. Cover and let sit in the refrigerator for 8-10 hours. Bake at 325 for about 3-4 hours but this depends on the size of your turkey. Generally speaking, bake a turkey until a meat thermometer reads 180 degrees in the thickest part of the thigh.