I am usually not a beef stew fan but lately I have been craving a big heaping bowl of stew. Guess it is the drastic change in weather. You see, most places get cold around November with extreme coldness in December and January. For us Texans down south, we get slightly cool in November, kinda cold in December and cold in January. So recently when the weather got to below freezing we didn't know what to do with ourselves or our kids! I don't see how ya'll up north do it. My son is in love with the outdoors and when we can't go outside to play- Well, let's just say it doesn't make for such a great day!
Back to the food. Beef Stew with mushrooms, artichokes and potatoes! I know what your thinking- Mushroooms? Yes, mushrooms and even artichoke hearts to be exact. I love that combination and since I had some mushrooms that I needed to use rather quickly before they went bad, I thought how much fun to put these in the stew. I always like the flavor of mushrooms with my steak so this is perfect. A little red wine, some caramelized onions, garlic, carrots and spicy beef make for the best cold weather dish known to man. Actually, none to MEN! Make this for the boys in your life, slightly hint at what you would LOVE for Christmas and see  how easy it is to get what you want! LOL!
There is no need to be a chef or amazing cook. The ingredients do all the work for you in this dish. Just make sure to season your beef, then sear it and then let it cook in the soup. Don't just throw those bad boys in there. They need a little love first!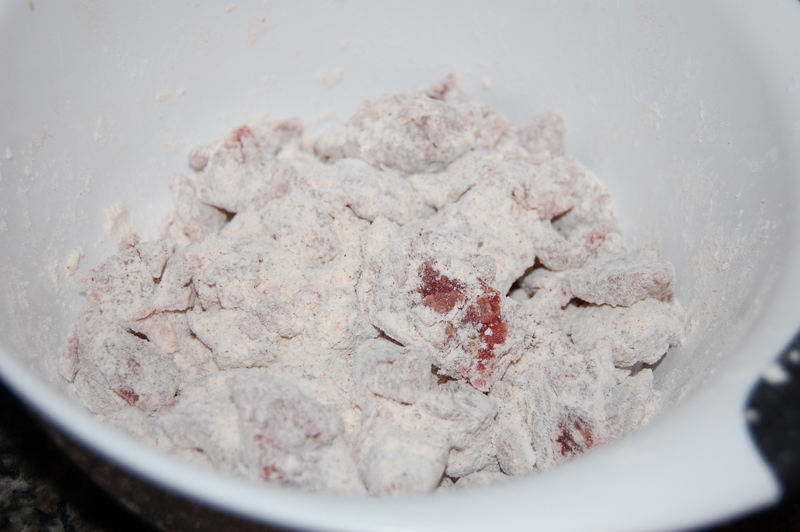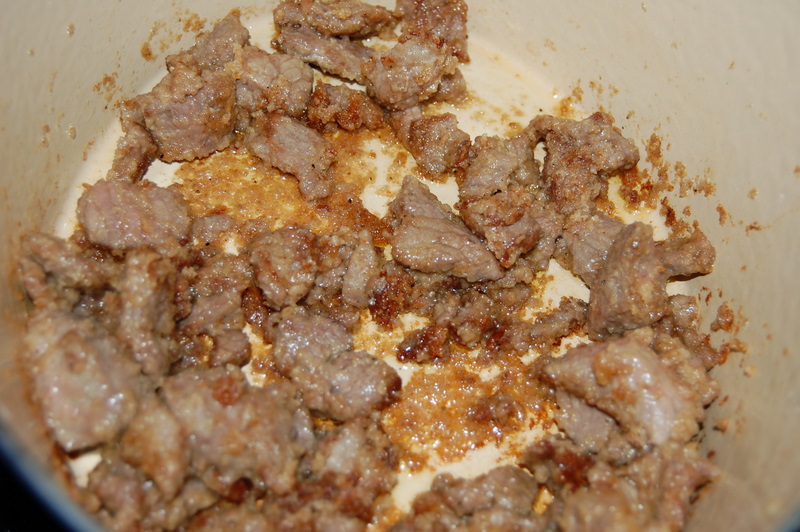 Now, the best part to me are the caramelized onions, mushrooms, artichokes and carrots so let these saute in a little butter and olive oil mixture in the SAME pan as you had the beef in. (of course take the beef out first and set aside). You will want to start with the onions first and get them going, then the mushrooms and garlic, then the carrots and artichokes.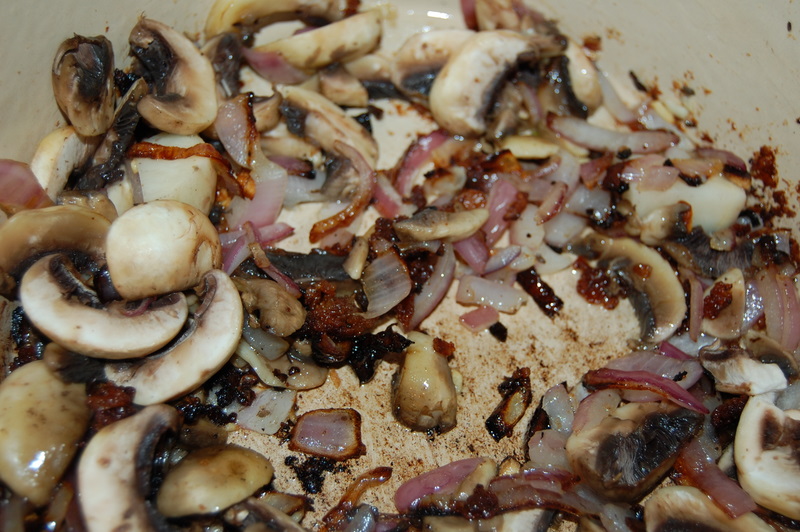 Now pour you some red wine into the pot along with some beef stock or beef broth (your choice) and add back in your beef. Season well with salt, pepper and paprika and bring to a boil. Turn down and simmer for 30 minutes and your done!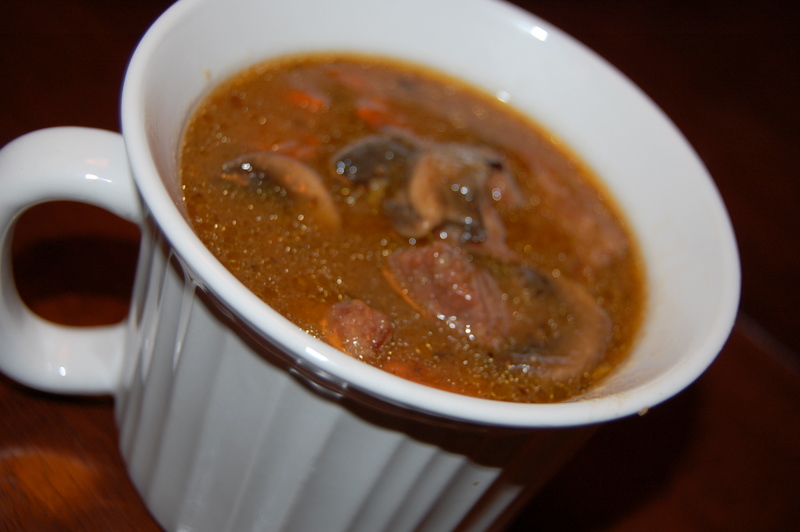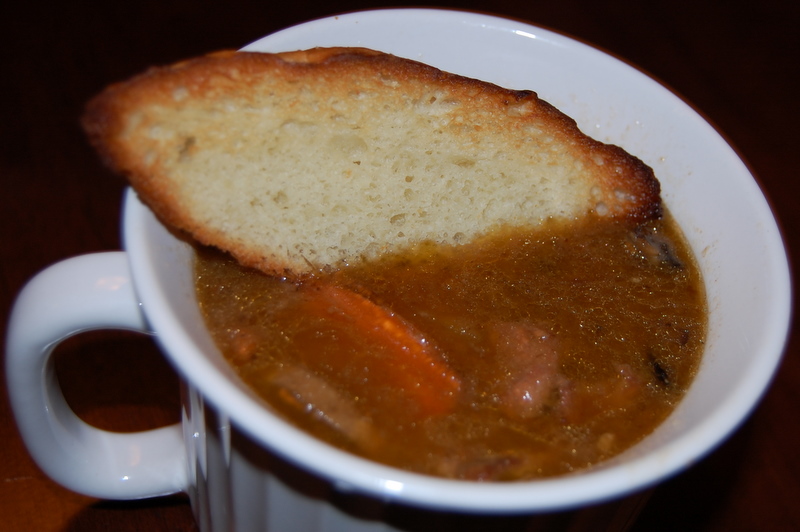 Beef Stew with Mushrooms, Onions and Artichokes
Ingredients:
2 lbs. cubed stew meat
1/2 cup flour
2 tsp salt
2 tsp pepper
2 tsp garlic powder
1 tsp cayenne powder
3 TBSP paprika
1/2 tsp Spanish thyme
1 TBSP parsley
vegetable oil for searing the meat
2 TBSP butter
2 TBSP olive oil
1/2 cup sliced carrots
3 cloves of garlic, minced
1 lb button mushrooms, sliced
1 small can artichoke hearts, sliced
1 cup onion, sliced or diced
1 large yukon gold potato, diced
1 can beef consomme, broth or stock
1/2 cup red wine
1 to 2 cups water (depends on how thick you like it- I use 1 1/2)
Directions:
In a bowl mix the flour with 1 tsp of salt, 1 tsp pepper, 2 TBSP paprika, 1 tsp garlic powder and the cayenne powder. Mix well and add the meat. Toss to coat all pieces. Heat about 1/2 inch of oil in a large skillet and sear the meat in batches. Approximately 3-4 minutes per batch. Drain the meat on a paper-towel lined plate and set aside.
Meanwhile, melt the butter and olive oil in the same pan as you seared the meat. Add the onions and saute for 3-4 minutes, then the mushrooms, garlic, carrots and finally artichokes hearts. Saute each veggie for 2-3 minutes before adding the next vegetable.
Once all the veggies are done. Add back the meat, then add the red wine, beef consomme and water. Bring to a boil and then reduce heat to simmer. Season with the remaining salt, pepper, garlic powder, thyme and paprika. Simmer for 30 minutes. Stir in the parsley and serve warm!
Note: You can make this stew heartier by thickening it to your preference. To thicken, stir a heaping tablespoon or two of cornstarch with 2 TBSP hot water, mix and then add to the stew.
CHRISTMAS SIDE NOTE: Pei Wei Asian Diner is hosting a holiday food drive this week on December 15 (tomorrow) and 16 (Thursday). Customers may bring a non-perishable food item to their local Pei Wei store and receive 25% off an entrée of their choice. While this food drive is a nationwide effort, each store's food items will be donated to a local food bank.