Welcome to the new Kitchen Belleicious site. I wanted to have it all ready for Christmas season but that didn't happen but at least I have it done for some of Christmas! Although the look as changed Ms. Belleicious hasn't so please please keep stopping by for great Belleicious treats your whole family will love!
I have so many people to thank for this new site. One of which is Ms. Courtney Noffsinger from One Mom's Perfect Imperfection. No one ever told me that when I started a blog I would make so many incredible friends, friends that are there for you when you need them the most. For those of you who do not know Courtney she is an amazing, out of this world photographer who also has a great eye for design. She can design just about anything- you name it she can do it. I emailed her last weekend and told her my idea of a logo/header I wanted to put on my new site. I didn't hear from her for about 30 minutes and then like magic she replied back already having 3 potential designs for me to choose from. I was in shock. Not only did she just do this for me at the drop of a hat but the designs where exactly what I was envisioning. Seriously, I am here to testify she knows what she is doing and she is phenomenal at doing it! Head over to our friend and fellow mom's site and see what she has to offer. She also has her photographs on etsy. To die for pictures!
Another shout out goes to Sathishkumar from TechieMania. This guy is so sweet and although he normally charges for his services he was so kind to realize this girl had no idea what she was doing when she decided to move from blogger to wordpress! I think I sounded just desperate enough that he agreed to help me without the fees. If you need any services relating to blogs or wordpress or codes or anything at all be sure to contact him at TechieMania.
Now it's time to talk food! I wanted an extra special post for today. I decided that showing you all what I have made this year for my Christmas treats would be fun! Every year I bring boxes filled with homemade goodness to our friends and family and this year I think I my have found a few new keepers. I wanted to do some new candies that I typically make so I opted for Espresso & Almond Macarons and Peppermint Patties. Seriously, the peppermint patties taste just like Andes Mints. YUMMY! So if you are still hunting for those perfect Christmas recipes then search no further!
I think it was a sign from above because last week I randomly stopped to look at this ad in Food Magazine. I don't normally pay any attention to ads but this one caught my eye. It was Martha Stewart's new Christmas line for cookie boxes and other goodie bags. I immediately drove myself and G to Michaels to pick up the most adorable little gift boxes ever. I am in love with them and so easy to put together. Seriously, look at how cute!!!!!!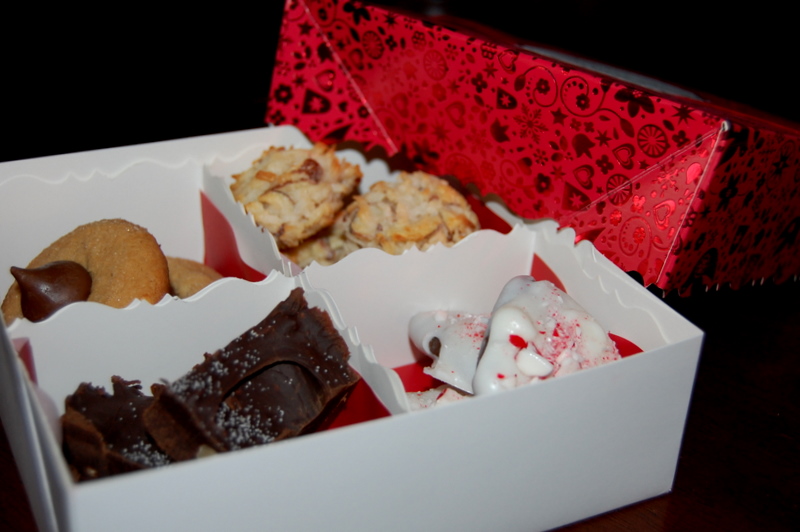 Espresso Almond Macaroons
Ingredients:
2 cups flaked sweetened coconut
1 cup sweetened condensed milk
1/2 cup flour
1/4 tsp salt
1 tsp espresso
1/2 tsp vanilla
1/2 cup sliced almonds
Directions:
In a mixing bowl, stir together the flour and coconut. Mix in sweetened condensed milk, salt, espresso, vanilla and almonds. Stir until a thick batter forms. Roll into small sized balls of dough and drop onto cookie sheet. Bake for 15-25 minutes at 350, or until bottoms are lightly browned and peaks are taking on some color.
Peanut Butter Blossoms (adapted from BrownEyedBaker)
Ingredients:
30-40 hershey's kisses
1/2 cup butter, melted
1/2 cup chunky peanut butter
1/4 cup nutella
1/3 cup sugar
1/3 cup brown sugar
2 TBSP milk
1 tsp vanilla
1 1/2 cup plus 2 TBSP flour
1 tsp baking soda
1/2 tsp salt
1 egg
sugar to roll cookies in
Directions:
Sift together the flour, baking soda and salt. Set aside.
Beat butter and peanut butter together, add both sugars and beat until light and fluffy. Mix in the the egg, milk and vanilla. Add the dry ingredients in batches and mix until blended but do not over mix.
Shape into 1 inch balls, roll into sugar and place on ungreased baking sheet. Bake at 375 for 10 minutes. Place the Hershey kisses in the center of each cookie as soon as they come out of the oven. ENJOY!
Chocolate Peppermint Patties
Ingredients:
1 cup plus 2 TBSP AP flour
1/2 cup cocoa powder
1/2 tsp baking soda
1/2 tsp baking powder
1/2 tsp salt
5 TBSP unsalted butter, room temp
3/4 cup sugar
1 large egg and 1 large egg yolk
1 tsp pure peppermint extract
8-10 candy canes, crushed up
2 lbs white baking chocolate
Directions:
Sift together the dry ingredients and set aside. In a large mixing bowl, beat together the butter and sugar then add the egg, egg  yolk and peppermint extract. Beat until blended then add in the dry ingredients in batches. Once mixed drop into 1 inch balls onto a ungreased cookie sheet and refrigerate for 10 minutes. Bake at 350 for 10-12 minutes. Once cool dip the cookies  into the melted white chocolate (melt chocolate in double boiler) then sprinkle with the crushed peppermints. Set aside to cool and dry before packaging or serving.
Easy Homemade Fudge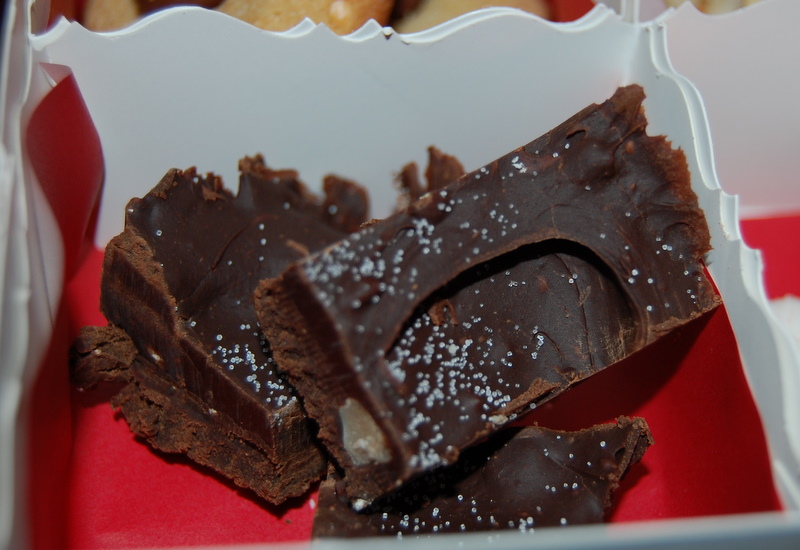 Ingredients:
4 ounces of bittersweet chocolate
12 ounces of semi-sweet chocolate
1 tsp vanilla
1 cup condensed milk
Directions:
In a medium sized pot over low heat add the chocolate, condensed milk and salt, stir with a wooden spoon until  melted then add the vanilla. Remove from heat pour into a parchment lined baking pan and spread evenly.  Refrigerate for 3-4 hours until firm.
I also made some trash and sugar cookies for smaller gifts! Stay tuned for those recipes!