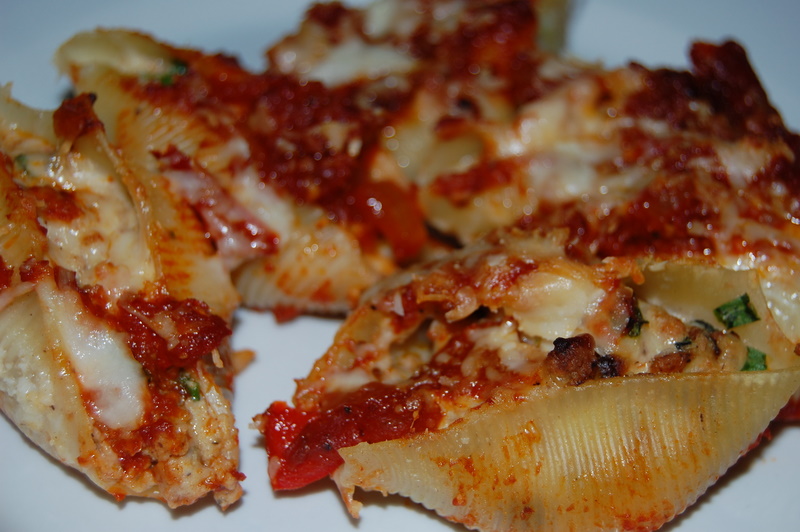 I have never cooked with chicken sausage nor have I ever actually eaten it so I was pleasantly surprised last week when I stuffed huge pasta shells with a mixture of chicken sausage, veggies, cheese and breadcrumbs and sat these pretty little shells on top the best yet marinara sauce. The flavors were amazing and it was all I could do not to eat the whole plate. Stuffed pasta shells are simple, easy and you can pretty much just use whatever you have on hand.
This particular savory pasta dish will not fail to make a great impression no matter how easy it actually is. Think of all the ingredients one would use to make a classic lasagna, the marinara sauce, ricotta cheese, eggs, meat and now substitute it with chicken sausage and huge pasta shells. It cooks in half the time of lasagna and is virtually mistake free!
Bake until bubbly and enjoy a mouth full of flavors that will leave you wanting more! This dish is perfect for a weeknight meal or even a potluck dinner. Easily serves just 2 or more!
Chicken Sausage Stuffed Shells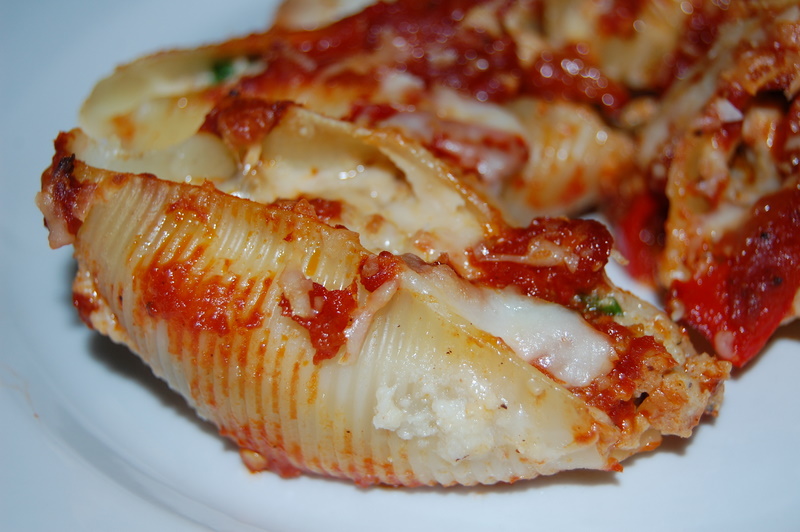 1 lb chicken sausage, cooked and crumbled
1 package of large pasta shells, cooked per package directions
1/2 cup mozzarella cheese
4 ounces chopped frozen spinach, thawed and patted dry
1 TBSP fresh basil, chopped
2 tsp salt and pepper each
1 28 ounce can of crushed tomatoes
Directions:

Preheat your oven to 350. Coat a 13×9 baking dish with nonstick spray and set aside.
In a large saucepan saute your veggies along with the garlic. Add your crushed tomatoes and bring to a simmer. Season with 1 tsp salt and pepper each, the thyme, oregano and basil. Bring to a boil then reduce heat and cook for 10 minutes. Set aside.Once your chicken sausage has been cooked. In a large bowl, combine your ricotta cheese, Parmesan cheese, 1 tsp salt and pepper each, the lemon pepper and cayenne pepper, egg and breadcrumbs. Add in your chicken sausage and spinach. Layer the baking dish with a few good spoonfuls of your tomato sauce that you made earlier. Fill Place your pasta shells over the tomato sauce and fill each shell with the chicken sausage mixture. Top with the more tomato sauce and shredded mozzarella cheese and bake at 375 for 40-45 minutes.Note: If you do not want to bake it at this point, you can cover with plastic wrap and freeze for up to four months or you can place it in the refrigerator (which is what I usually do) and cook it later that night or the next day.