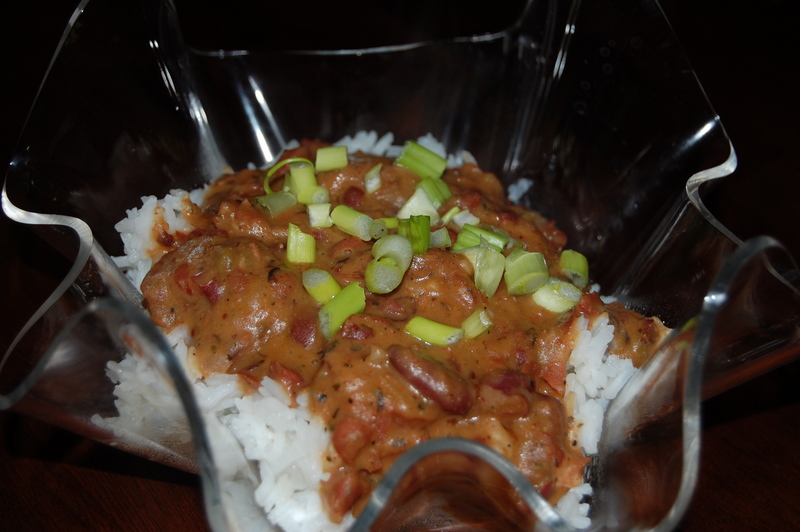 Let me just be blunt for a moment! Every time I say or think Red Beans and Rice I think YUCK! Not something you expected to hear huh? Well, let me re-phrase that. Every time I USED to say or think Red Beans and Rice I would think YUCK! But not anymore! I have officially been converted into a true southerner by my N-awlin's husband.
See, one of my husband's all time favorite meals is red beans and rice. He thinks it is just the best thing since sliced bread and his mom would always make him a big batch and freeze it for when she came to our house so he could have it on nights I wasn't cooking or times I wasn't at home. Why you may ask did his mom do that? Well, one she is an incredible mom. She loves her boys to pieces and she makes one of the best red beans and rice you have ever had. But she also does it because she knows that I can't even stand the smell of it let alone the thought of cooking it in my house!
As I write this I am making a note to call my mother-in-law and let her know the good news! I am sure his whole family will be glad to
know that I now like red beans and rice. I pinky promise you I have no earthly idea how I came to even want to cook this dish. I was just looking through John Folse's cookbook and came upon a recipe for it. After reading it and remembering that my husband had been having a tough week at work I thought well I will just make it for him, hold my nose during the process, and I will just eat salad for dinner. However, mid-way through the cooking process I attempted to taste the sauce to see how I was doing and I was impressed. I then took another taste and was like, I can do this! I can eat red beans and rice and So I did!
It was a wonderful night in the Maher household and my husband couldn't have been happier to see that we
were having his favorite dish that night. I did have to put my own spin on it of course so I added a little pancetta along with pecan smoked sausage and of course some hot sauce!
If you like red beans and rice then I can promise this recipe is for you!
Belleicious Red Beans and Rice (adapted from the Encyclopedia of Cajun Cuisine)
Ingredients:
1 can New Orleans Red Beans1 can red kidney beans
1 cup cooked long grain rice
1/4 cup vegetable oil
1/2 lb. pancetta
1/2 lb. pecan smoked sausage
1 onion, diced1/4 cup minced garlic
1 cup diced green bell peppers
1/2 cup flour
4 cups chicken stock or more depending on the thickness you desire
1/2 cup green onions, chopped1 tsp salt
1 tsp pepper
1 tsp cajun seasoning
few dashes of hot sauce
Directions:

Heat the vegetable oil in a dutch oven and saute the veggies and garlic, along with the pancetta and sausage, approximately 8-10 minutes on medium-low. Once the meats are done, add the flour and stir to form a roux. Heat the chicken stock in a separate pot and once warm slowly add to the roux. Now add your beans, salt, pepper, cajun seasoning and hot sauce. Bring to a boil for 20 minutes then turn down and simmer for an additional 15-20 minutes. Garnish with green onions and serve over a bed of rice.